Not that long ago we produced yet another small website for our friends at Fender Australia, for the custom made Gretsch guitars they distribute.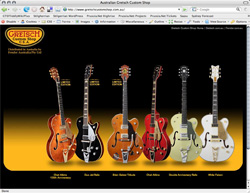 By creating a separate website at gretschcustomshop.com.au, they're able to showcase the unique, top-shelf qualities of these instruments and give visitors the impression they're seeing experiencing special.
The website is built "by hand". A designer has to adjust the home page photos every time a new model is released. In the long run it would be cheaper to build this site in a content management system (CMS). However sometimes a quality, hand-made product does require a quality, hand-made website.